---
How to Grow Rudbeckia
---
keywords: howtogrow Orange Coneflower, alias Rudbeckia fulgida var sullivantii "Goldsturm"
location: Chicago, Illinois, Zone5
See also: Rudbeckia hirta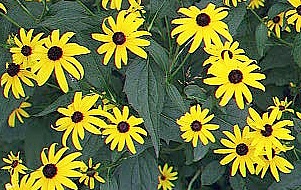 Some Rudbeckia fulgida on the north side of a lilac bush where it is a good ground cover.
The Rudbeckia fulgida you see everywhere around here is a variety of orange coneflower where the orange on the inner parts of the petals is missing and thus they look very nearly like Black-Eyed Susans and catalogs typically call it a Black-Eyed Susan.
The plant is a perennial plant native to the Eastern US. It is easy to start from seed AND every Spring it will produce small runners that produce new plants. In no time at all you will have more than you can give away. You can plant it up against the north wall of a house and still get flowers although if you do this from seed it may take a couple of years to get to the point where they will bloom.
The real Black-Eyed Susan has long oval leaves without teeth and with hairs on the leaves whereas R. fulgida has arrow-shaped toothed leaves and no hairs.
If you have any questions or comments, write me.
Up To Don's How to Grow It Collection
To Don's Home Page