---
How to Grow Prairie Blazing Star
---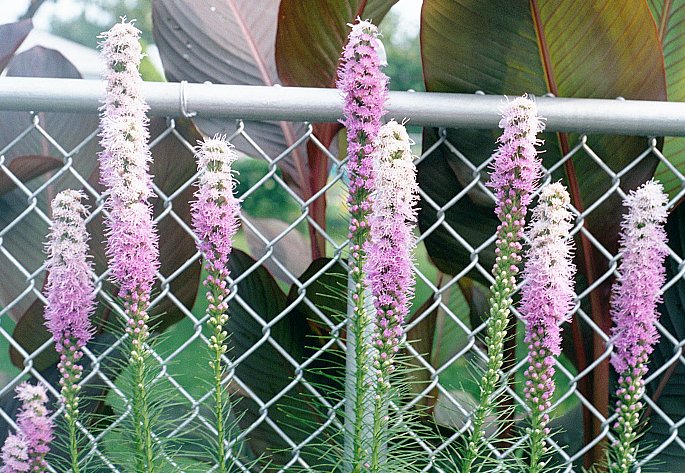 All these flower spikes came from a single plant. The flowers come out purple and fade to white giving a nice effect. I wish I could give you a picture with a beautiful prairie in the background but for the time being it's going to have to be a chain link fence and the neighbors' cannas. One day I hope to put up a nice phony background.
Almost every liatris you can get will be L. spicata and it will be bred to grow 1.5 to 3 feet tall, too short if you ask me since I've seen them in our forest preserves reaching up to 6 feet tall. Thompson and Morgan rated L. pycnostachya at 3-4 feet so I had to give it a try. The first year they remained simply a cluster of leaves close to the ground. They look quite similar to L. spicata and did manage to get 3 to 3.5 feet tall. They bloom in July, the same time as L. spicata and are just as impressive. Other liatris are prone to rot and this one is no exception.
They can get mildew so arrange for them to be in a sunny location where there is good air circulation.
They can be divided in the spring, take a small saw and cut the bulb in half, pull up one half and leave the other half in the ground.
If you have any questions or comments, write me.
Up To Don's How to Grow It Collection
To Don's Home Page