---
How to Grow Spotted Joe Pye Weed
---
keywords: howtogrow Spotted Joe Pye Weed, alias Eupatorium maculatum,
Seedsfrom: Thompson and Morgan
location: Chicago, Illinois, Zone5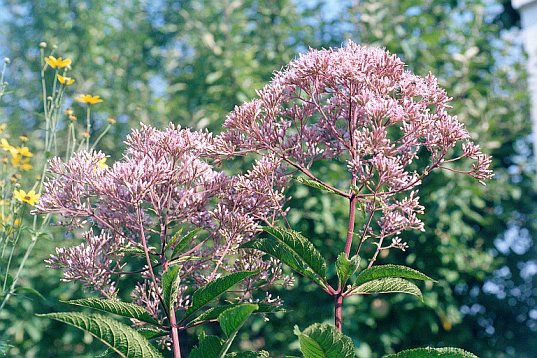 The color goes great next to the yellow of tall coreopsis. I wish I placed them closer together.
Its another native prairie plant so how could I resist? Its a well-bred variety called Eupatorium maculatum 'atropurpureum' from Thompson and Morgan. Supposedly 4-5 feet however the above one is more like 7 feet. This means I have to tie it to the fence. It has on the order of 8 stems, each with flowers during August. Supposedly it had to be planted early to get it to bloom the first year however I planted it not so early and it bloomed anyway (and stayed down to 3.5 feet or so with a single stem). Bumblebees will crawl all over the flowers plus some butterflys like the flowers. The color you see here is close to the true color, it does not come out the "wine red" shown in the catalog, or at least my two plants did not.
If you have any questions or comments, write me.
Up To Don's How to Grow It Collection
To Don's Home Page