---
How to Grow Purple Coneflowers
---
keywords: howtogrow purple coneflowers, alias echinacea purpurea,

Seedsfrom: Park Seed

location: Chicago, Illinois, Zone5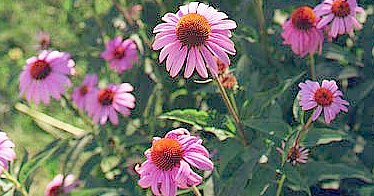 Purple coneflowers descended from the Bravado variety. This variety is supposed to hold its petals more upright. Butterflys like the flowers and goldfinches like the seeds.
This is a perennial daisy-type flower native to the prairie. Its becoming fairly popular because of its long lasting bold colors plus its easy to grow from seed. Its also gotten attention because the roots and other parts of the plant can be used in teas that stimulate the immune system against viruses. It grows up to about 3 feet high however there is a white varitey, White Swan that only goes to about 18 inches (Park Seed has implied that White Swan also gets 3 feet high, don't believe them, and plan accordingly). Thompson and Morgan has one that is pretty close to red called Magnus. Even the purple purple coneflowers are somewhat pinkish especially at first. At times the flowers have a faint fragrance.
Seeds are available virtually everywhere seeds are sold. Directions for the seeds don't usually mention cold treatment but giving the seeds cold treatment will increase the germination rate. If you've already got an existing plant, let it go to seed and let the seeds fall where they may and the following year you will get many new sprouts in the spring and summer, I have so many now that I have to treat them like weeds. Deadheading is supposed to keep the flowers coming but I let nature take its course and leave the flower heads so that the goldfinches will have something to eat. If you have a mixture of white and purple plants almost all the plants will come up purple and the couple of whites I did have come up actually went to 3 feet tall. Plants started early will bloom the first year but rather later in the season than older plants which start blooming in late June. Plants will get bigger as time goes on and older plants will have more flowers than first year plants.
Purple coneflowers do well in normal soil with normal amounts of moisture but they will also do well in rockier, dry soil. Some of mine have sneaked into a Japanese-like garden area (OK, OK, its just rocks) where there is virtually no soil and they do just fine. From time to time a plant will die out, it will simply turn brown and that's it. Whatever causes this does not spread and if you let the plants go to seed you'll always have more than you need.
---
If you have any questions or comments, write me.
Up To Don's How to Grow It Collection
To Don's Home Page